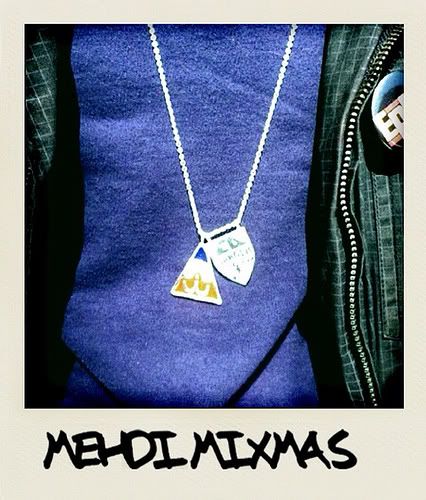 'Tis the season for the spirit of giving, and so Ed Banger standby
DJ Mehdi
prepared a nice little Christmas mix that, in his own words, "Starts quite smoothly and gets harder towards the end, just like I like it."
Download it here
, courtesy of my friend
Brother Suarez
.
And also be sure to check out Mehdi,
Busy P
, and - oh wait -
Justice
at the
Ed Banger 7th Anniversary Party
this coming February - I'm really starting to have second thoughts about this whole going to Spain business.
***
Tracklisting:
01. James Pants: "Seven Seals"
02. Burns: "So Many Nights"
03. Kid Sister & Green Velvet: "Everybody Wants"
04. Azari & Ill/Agayo Remix: "Hungry For The Power"
05. Le Le/Mercury Remix: "Disco Monster"
06. Feadz: "Get On Down"
07. Serge Santiago: "Atto D' Armore"
08. Tony Senghore: "If You Came Here"
09. Boy-8-Bit: "Chapel Of Chouls"
10. Skunk Anansie/Michel Cleis Remix: "Because Of You"
11. Boris Dlugosh: "Bangkok"
12. Arveene & Misk: "Hells Bells"
13. Momma's Boy/Kid Kaio Remix: "Wedouwedou"
14. Riton & Seiji/DIM & TAI Remix: "Computer Juice"
15. Philip & Lloyd: "Keep On Moving"