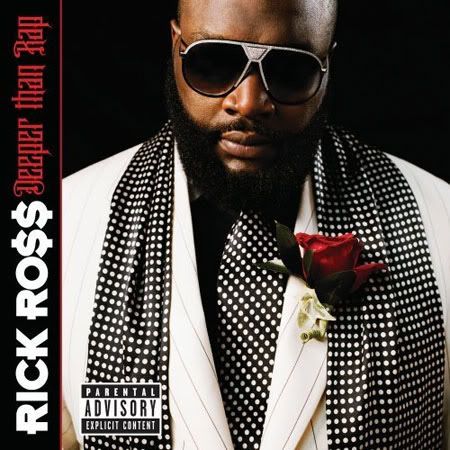 2009
Def Jam
Buy (Amazon.com)
7/10
Deeper Than Rap
. What exactly does that mean?
Is it the moniker of an album which goes beyond the limitations of the genre to explore new territory and break new ground? Maybe
Rick Ross
is making a commentary on the sad state of vacuous hip hop? Perhaps he's even going so far as to say that he goes beyond the superficial topics of fame and excess, and instead gets to the heart of the
Grandmaster
's "Message"? Or is it just Rick Ross the braggart, making another grandiose boast?
I'll let you guess.
Even so, Rick Ross accomplishes a decent amount when you take into account the limited palette he has to work with, and you have to give him some credit for the sheer balls he's displayed - not many people would keep up their
Scarface
alter-ego after being exposed as a fraud. So while "the real Noriega" might not owe him any favors at all, it's still entertaining to hear Ross play make-believe.
In a way, Ross wants you to believe he has reached a retirement of sorts; at the very least, years of "Hustlin" everyday has afforded him a comfortable enough life that he's managed to rearrange his priorities. On closer "In Cold Blood" he professes "Family over the money / money over the bitches", even going so far as to say that money "means nothing". Still, I'm not convinced.
Whether he means it, though, is irrelevant to the album's entertainment value. And, let me tell you, with a handful of tightly knit Ross verses, as well as a few outrageous cameos, the album is quite entertaining.
Nas
spits venom on effortless "Usual Suspects" (does he even have to try anymore?), and the
Trina
featured "Face" is ridiculous to the point of parody. "Maybach Music 2" has verses from
Lil' Wayne
and
Kanye
, but neither bring much more than the same scatological humor and tired boasts about running the industry. Stronger are the Jamaican vibes of "Yacht Club", and dense, solo opener "Mafia Music" immediately brings to mind Weezy's triumph "Tha Mobb".
On the whole, the good outweighs the bad, and though he may never top the stunning
Port of Miami
, Rick Ross is still interesting enough to merit relevance and attention. Here's hoping the next disc goes a little bit
Deeper
still.
---
Key Tracks:
Mafia Music
Usual Suspects