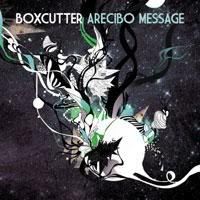 A few months ago, as I was travelling the world of breakbeat music in search of fun tracks, I stumbled upon a neat drum and bass outfit called
Boxcutter
.
So this morning, as I was perusing that other website I write for, I was very pleasantly surprised to see that name, "Boxcutter", under the list album reviews posted this morning. Lo and behold, it was the same DJ as I had heard previously!
Christa Macnaughton has written a
very nice review
of his newest album,
Arecibo Message
, so be sure to check it out.