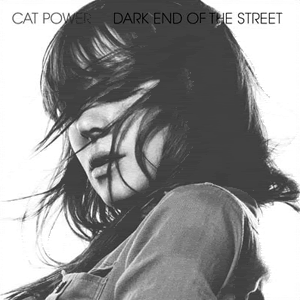 2008
Matador Records
Buy (Amazon.com)
6/10
The fact that
Cat Power
has released another collection of covers should come as no surprise to anybody. Smoky, downbeat updates of classics and obscurities renditioned in a smoky sigh full of ache; for better or for worse, Chan Marshall has found a formula, and stuck with it. And people are still listening. That's because, the formula, it works. For the most part.
If one were to graph my level of engagement with
Dark End of the Street
, it might look a bit like a normal curve: at first, I was quite bored by it, next the songs revealed themselves over repeated listens, and then soon they reached a point where most of them failed to captivate. The fact is there's just not enough sonic variation on the EP to make it anything special.
The two exceptions on the disc are her covers of
Aretha Franklin
on "Dark End Of The Street" and
Otis Redding
's "I've Been Loving You Too Long". Just listen to that first one a few times. Now tell me that organ, those haunting chords, the sinister electric guitar trills in the third verse, that they don't make your spine tingle, if only a little. And that's not to mention her voice; Chan Marshall can cause a drop in my serotonin levels in the span of a chorus. "I've Been Loving You Too Long" doesn't have the same level of orchestration, quite the contrary really, yet succeeds, due to little more than her ability to make me damn near clinically depressed. My favorite Cat Power cover remains "Sea Of Love", and not because it was in that pregnancy movie, but because in its sparseness was found a plea, bare and emotive. "I've Been Loving You Too Long" conveys much the same feeling.
The rest of the songs more or less plod along at the same pace, drifting in and out of one another without much ado. When given the attention of both ears, they're pleasant enough. The strings and keys on "Fortunate Son" (originally a
CCR
number) are quite appealing, and
The Pogues
' "Ye Auld Triangle" really picks up at the end. The tracks themselves are more than tolerable, it just all gets boring after awhile. The only clunker on the disc is "Who Knows Where The Time Goes?", a five minute procession that drags its feet at the tempo of a dirge. I guess I can't be too harsh, since these were after all the "dregs" of her
Jukebox
sessions that didn't make the cut, but I have to say that I'm still a little underwhelmed.
It'd be nice to hear Cat Power give 2006's acclaimed
The Greatest
a follow-up of original material.
Dark End Of The Street
isn't a terrible as a hold-over til the next full length, and I guess it succeeded to that end: it
did
leave me wanting more Cat Power. The next album that drops, I'll certainly be listening.
And so will everybody else.
---
Key Tracks:
Dark End Of The Street (James Carr, Aretha Franklin)
I've Been Loving You Too Long (To Stop Now) (Otis Redding)