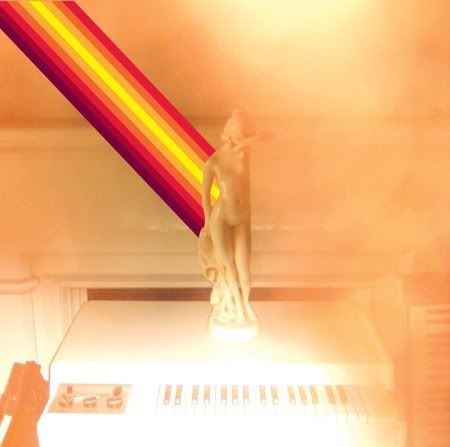 2008
XL Recordings
Buy (Amazon.com)
6/10
Lacking the immediacy of
9 Beats
and packing more punch than
Classics
, this summer's
LP3
finds itself in a limbo of sorts: individually accomplished but not quite out of the shadow of prior successes.
Ratatat
has always been about fun, electronic music that carves itself into a nook between post-rock and dance, and tracks like "Falcon Jab" embody that attitude with gusto. At the same time, the record shows a more forward-thinking mindset, and the songs often push the envelope stylistically. The result is a mixed bag, with both extremes represented: the boring and the avant garde. "Flynn" finds the band working with a blandly minimalist palette, the high register melodic line and sparse accompaniment lacking any fleshed out bass or definitive beat. A good chunk of "Imperials" is centered around the whooshing and slurping of water, and much of "Bird Priest" lies only a few bits away from the
Pokemon Red
soundtrack.
While the same could be said of closer "Black Heroes", this song's saving grace lies in the way each sonic layer slowly reveals itself to keep the listener glued. And for a glimpse at what most likely lies ahead for the Brooklyn duo, look no further than "Mirando". It combines off-beat folky percussion with metallic synth and an incredibly infectious beat to seize attentions for a four-minute aural thrill ride.
Old fans need not worry though, as there are plenty of vintage Ratatat moments. Relics like "Mumtaz Khan", "Shempi", or the aforementioned "Falcon Jab" could all easily pass for cuts from the self-titled sessions. And therein lies the problem: compared to these throwbacks, the more novel moments often fail to captivate to the same degree. Ratatat can't tell if they're coming or going - they're torn between the musicians they were and the musicians they want to be, unable to commit one way or the other.
LP3
finds a band in transition - at a rest stop, per se. Here's hoping
LP4
finds them at their destination.
---
Key Tracks:
Falcon Jab
Mirando
Black Heroes