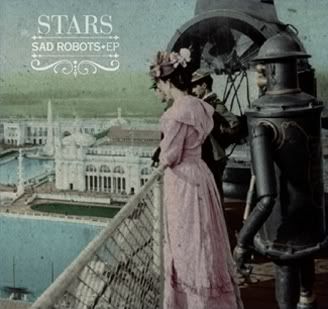 2008
Arts & Crafts
Buy/Download
7.5/10
For me there often comes a moment, usually a few hours before dawn, when I just want to die. Melodramatic, yes, but hear me out: the night is interminable, the morning will never come, the world is devoid of hope, and I've squandered another day. Like the idea of a "sad robot", this is a time of contradiction, as it is only at four in the morning that the day really feels twenty four hours long, twenty four hours short. There is so much to do that must be put on hold until sunrise that, sitting idle, waiting for release, I feel a waste. Errands, classes, social engagements, shitty breakfasts at the dining hall: all of these must wait three more hours - I must wait three more hours - for the rest of the world to catch up. And sometimes it's just too much; sometimes I feel like dying.
I would posit that the members of
Stars
understand this feeling all too well, and the
Sad Robots EP
only strengthens such an argument. Indeed, the opening track is an instrumental called "Maintenance Hall 4am", and its brooding piano and mechanized drones live up to the title quite well. Poignant, nostalgic, resigned, Stars makes me happy and sad and bitter and in love all at the same time, and I get the feeling that there's not a god damned thing I can do about it.
Forgive me for the
Sputnikmusic
track-by-track breakdown, but the songs themselves are varied and brilliant. Standout "A Thread Cut With A Carving Knife" stays true to its name, a grandiose exercise in excess, a six minute mini-epic that feels like a more mature and less embarrassing "In Our Bedroom After The War".
Torquil Campbell
reflects upon freshman year through rose-colored lenses on "14 Forever", and
Amy Millan
dominates "Undertow", which has the poppy, upbeat sound of a single. The title track (and closer) comes across unsure as it wades through a haze of strings and electronics, mulling over repeated French stanzas, never quite finding its footing or its self. Also included is a live version of "Going, Going, Gone" that, more fleshed out and wholly orchestrated, handily surpasses the original
Nightsongs
cut.
Part of me gets the feeling that this was a summer soundtrack released one month too late. And it is precisely because of this fact that I think
Sad Robots
was released at the perfect time: the leaves are changing, the mercury is falling, and another summer's promises have expired, been proven empty. Stars successfully captured this half-smiled regret on their seminal
Set Yourself On Fire
, and they've done it again here.
Wistful, sad, beautiful, this is the music of autumn, these are the anthems for 4 AM.
---
Key Tracks (Click to download):
Going Going Gone [Live]
A Thread Cut With A Carving Knife