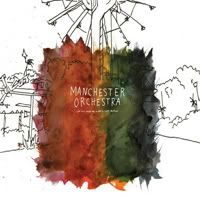 2008
Canvasback Music
Buy (Amazon.com)
7.5/10Don't stop calling, you're the reason I love losing sleep.
-"Colly Strings",
I'm Like A Virgin Losing A Child
Fetal and sweating inside the closet bedroom of Amagansett, insomnia takes hold. You can't help but call at three in the morning, and I can't help but stay up for the possibility.
Don't go. Just go.

-"Please Don't Go",
Nobody Sings Anymore
Nothing and everything have changed. I'm in love with your face and yet I can't stand the sight of you. This music will never sound the same.
I realized that, then, you were perfect.
-"I Can Feel A Hot One",
Let My Pride Be What's Left Behind
Sprawled and gray on a dry bed for a dreary Albany afternoon, it's all so clear. You were perfect. You are perfect.
You are perfect and I left.
***
Another song, another album that will forever be tied up in messy awkward subjectives and overdrawn memories - with
Let My Pride Be What's Left Behind
,
Manchester Orchestra
have further cemented their place as an act that I just can't get enough of. The new cuts are more akin to those from the unreleased
Nobody Sings Anymore
- they're narratives. The words sketch vignettes of car wrecks and crises of faith, the first two songs ("I Can Feel A Hot One" and "I Was A Lid") sharing the concept of an endangered pregnancy amidst torrid love. Andy Hull has been slowly staking a claim for inclusion with the likes of Stuart Murdoch, Isaac Brock and Aaron Weiss as one of our generation's gifted lyricists. He scribbles down one-offs like "Badges and Badges" (which is vaguely reminiscent of "Don't Let Them See You Cry") as if they were throwaways, packing depth and poignancy rarely achieved during entire careers.
"I Can Feel A Hot One" is superlative; it stirs up memories of 2007's "Colly Strings", possessing all of the sober melancholy and none of the explosive catharsis, and emerging the better for it. The other notable track is an acoustic version of "Wolves At Night". Identical to the one made freely available for download last year (albeit without the annoying "WBRU Podcast" bumpers as bookends), it possesses an understated tone which bears no resemblance to that of
Virgin
's original.
In early 2009, Manchester Orchestra is slated to release their next LP,
Mean Everything To Nothing
. Until then, you'll have to excuse me - it's time to go entangle another twenty minutes of music in a knot of shitty memories.