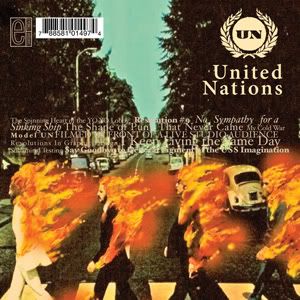 2008
Eyeball Records
Buy (Amazon.com)
8.5/10
Supergroups are pretty hit or miss.
The Sound Of Animals Fighting
, miss.
Broken Social Scene
, hit.
Asia
, according to many, miss.
United Nations
, according to me, hit.
Where to begin, where to begin? For the
Top 20 Albums Released Since 1970
feature, I had to do a brief write-up of
Circle Takes The Square
's 2004 masterpiece,
As The Roots Undo
. I think what I wrote there has a lot of application to United Nations' self-titled debut:
You will probably hate this album, unless you enjoy loud, abrasive, challenging music
. Geoff Rickly of
Thursday
fame, and Daryl Palumbo of the seminal post-hardcore band
Glassjaw
(along with some other people who can't be named due to crazy contract issues with large media conglomerates) have come together to make one of 2008's loudest, most abrasive, most challenging, and, above all, most enjoyable albums.
From its controversial cover (which has placed the band's label, Eyeball Records, in some legal hot water) playing off of
The Beatles
' iconic
Abbey Road
to songs riffing on
Refused
("The Shape Of Punk That Never Came") and the aforementioned Beatles ("Resolution #9" declares that "We all live in a yellow submarine"),
United Nations
is a scathing critique of American culture and the "underground" music scene.
Loud, abrasive, challenging, sneering, flippant, defiant - you will probably hate this album. But clocking in at a mere 25 minutes, I think you can find enough time to decide for yourself.
---
Key Tracks: (Click to download)
The Shape Of Punk That Never Came